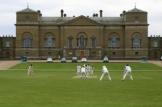 Blood, Swelling and tears all amount to a draw against Camden
A dull cloudy day in Cambridge at Pembroke college produced some alarming performances: more swelling and blood than an MPs expense audit! With a thin bowling attack (numbers, not weight) Camden eased to a target of 213, with contributions from all bowlers with a more efficient spell from J Kennedy (9 overs, 35 runs for two wickets).
Wally Hammond provided a solid base. Gurney's need to leave early was of no real consequence, holing out for just two runs in 9 minutes. Blood and swelling caused WNCC to lose focus – Will Wright was hit twice in the nether regions in as many overs and a Camden play used his nose to stop a Hammond cut to point.
Late charges by hard hitting Will Stanton and Ian Mason provided some additional entertainment towards the close, with Ben Stanton closing out the last couple of overs once victory was deemed out of reach.