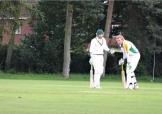 Strong Caius side inflict early defeat on WNCC.
The West Norfolk bowlers took several expensive overs to acclimatise to the new season with a bowling display that lacked the expected intensity. The attack would have benefited from better support in the field and the bowlers were unlucky not to have had several more catches. The skipper, in particular, could not to find a safe pair of hands in the covers during a good spell of accurate away swing.
Courtauld , Stanton B, Coke, Thompson and Waters all worked hard to dislodge some tenacious batsmen. Courtauld squeezed an interesting LBW decision from a youthful umpire. A harsh leg-side stumping decision denied gloves Holden an early victim and allowed the openers to put together a useful partnership. A Caius score of 243 was always going to be a challenge.
The WNCC openers were out with a good partnership developing, Holden batting at number 3 top scored with a racy 45, but despite a lucrative partnership between Stanton R and Fairey, there was too much to do and WNCC were all out for 205. This was a stronger Caius side than we have seen for some years and the effects of a long winter showed in the WNCC side.