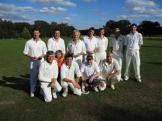 Draw snatched from the jaws of victory at Trinity
The 1st ball of the day saw a Stanton B Melton Mowbray with extra jelly being lobbed to mid off where Stanton W was awoken from his afternoon siesta with a bruise on his forearm and the chance gone. Fortunately the normal cafeteria bowling for which WNCC is famed was pleasantly absent as a Walpole inspired attack managed to restrict the run flow as well as picking up wickets regularly.
Thompson had to be taken off as his mastery of the swinging ball was beyond the batting side as his figures of 6 overs for 9 runs and 1 wicket reveal. Courtauld having relinquished his place as the opening bowler by arriving 90 minutes late, then proceeded to claim a wicket in his first over – as rare an event as an honest House of commons expense claim. Kennedy and Mason I encouraged the students to a score that appeared respectable off 41 overs, with Kennedy being the leading wicket taker on the day and excellent declaration bowler.
The fielding, apart from 3 unnecessary overthrows from Mason I, was of a remarkably high standard. WNCC were given 33 overs to reach the target and Talbot Williams, with the poisoned chalice of winning the Thompson tankard now removed from his shoulders (interestingly he is still to hand it over to the current holder) was the top scorer with 49. Not many highlights as Stanton W, last year's centurion, morphed into a walking run out. Mason I announced himself with 2 boundaries of his first two deliveries and then showed his inexperience by finding himself at the non strikers end for most of the last ten overs.
120 were required from the last 20 overs. 60 were required from the last 10 overs. 30 were required from the last 5 overs and 12 were needed off the last over!!! – not sure how that happened suffice to say that Walpole managed 9 off it and we were 1 run short – those Mason buzzers proving to be the difference. Thompson ended 12 not out – so that's good for his average then.
WNCC Man of the match – J Walpole – set the tone with his bowling and almost pulled off a victory at the death. Thanks for coming award (TFC) – T Courtauld (if it had been a football match he would have missed the whole game) Worst dropped catch – Stanton W Stat of the day – No byes – (don't believe everything you read in the scorecard).