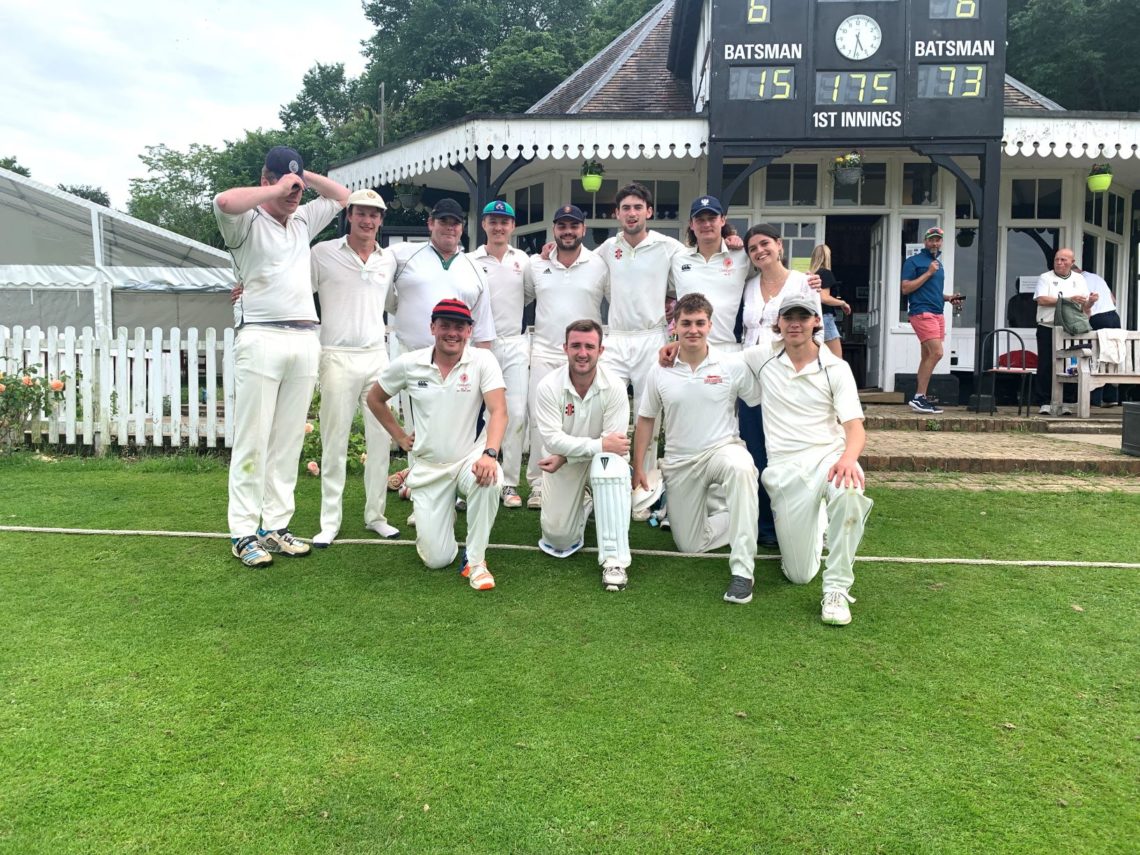 July Tour – West Norfolk CC V Wes Durston's Oakham XI,
Taking on the warm late afternoon sun, stretched out on the grass in front of the thatched Burley Park pavilion, chatting through the game and tour with the lads, a pint of Nene Valley Ale quietly disappearing, two top quality games of cricket to the better, against two competitive and most hospitable teams. It was good to be back on tour with West Norfolk.
Wes Durston/Oakham XI at Oakham CC
First up Oakham and the Wes Durston's XI: With James and Will Murray, Andy Jones and the match manager stepping in very last minute for a quartet of weekend Covid casualties, joining Edmund Parker, Josh Lecompte, AJ Stanton, Nick Davies, Matt Riddington, Nick Price, we had a full team. They all turned up almost all on time, but not before Wes had fallen for the old "best you bat first chat", to then share a rueful and I like to think admirative smile of one old pro to another, acknowledging he'd been totally stitched up when he saw the Richard Thompson arrive in Norfolk time and start wind-milling that majestic left arm of many a wicket..
At 100 and something for 1 after 20 odd overs the wishful thinking had long gone, as had the ball more than once or twice back over the bowlers' heads, and the Oakham team were looking good, but not out of sight. 16yr old left-armer Will Murray opened alongside Notts farmer and budding bar-room barracker Nick Price, classic left arm shape with good line and length combining with the ball coming down from the icy height of Nick's 6'7 plus a very long arm. Andy Jones showed the Leicester 2's speed credentials keeping the batsmen quiet if not out. Thommo did what Thommo does. James Murray, looking a picture, worked his artful off-spinners, but runs came steadily and wickets remained elusive. Oakham then started to accelerate with their Scottish international keeper/batsman striking a sportsman like 90 odd, then against the strokeplay AJ Stanton struck with his off spin, picking up a 5-fer, with Edmund Parker, Nick Davies and Josh all turning their arms, picking up wickets on the way. Oakham declared on a sporting 235/8.
James and the ever smiling Josh lead a strong reply, with a 60 odd opening stand. Edmund added runs with his wristy effective style. Thommo played cleanly against measured pace-off bowling, and the chase was on. But not for long. We needed a batsman to bat deep, however Wes came on and West Norfolk's tactic of waiting for the bad ball, not something ever really mastered, failed through no bad balls on offer, impatience, Wes' spin and (heard from the crowd) something along the lines of "poor shot selection". Last out the author for a golden duck to an unplayable slow one that went straight on. The support was excellent and much appreciated, particularly the "well done, you ran all the way to the boundary…".. A loss but what an enjoyable way to lose, a competitive game played in the best of spirits. Thank you Wes and Oakham.
The Crown, Stamford. Overnight.
We were asked if we would like to book again for next year… a winning result for the tour manager, and clearly no W, H, or B Stanton on tour…fantastic hotel!!
Burghley Park CC
Probably the perfect place to play cricket, and the match was up to the setting. WNCC put into bat, we just made it to lunch, and then were bowled out for some 180 odd, Tom Schanchieff striking an aggressive 75 but no one else really hanging on with him.
This looked light, with the short boundaries, but after 6 overs Burghley were 24 for 4, with 4 very good overs from Andy Jones and Josh Lecompte picking up wickets, an outstanding Jones catch, and WNCC were in the driving seat. Rotating the bowlers we chipped away but their number 3 Jack (who learnt his cricket at Beeston so really a Norfolk man) dug in and batsman by batsman they added runs, against some very tight WNCC bowling. Riddington again behind the stumps making a couple of excellent stumpings. 8 down and some 20 runs to go it was still very much anyone's game. A couple of hard dropped catches being taken would have turned it WNCC way however Jack and his number 8 deservedly struck the runs to win for BPCC.
Big thanks to JOJO the scorer, and special mention to Jake and Izzy, recruited at 8pm, watching England win the semis.. in London, who then walked the beer talk and turned up at Stamford station at 10am the next morning, to be booted and found some whites and then put in two great performances.
Back to the Nene Valley Ale and the mardlin'. We lost two matches but it was quite simply great to be back on tour playing. An acknowledgment and thanks to Arthur Carter and family for his generous bequest, and to WNCC, for supporting the tour. 9 players aged between 20 and 24 playing some very competitive cricket for WNCC is looking promising.
Jeremy Stanton