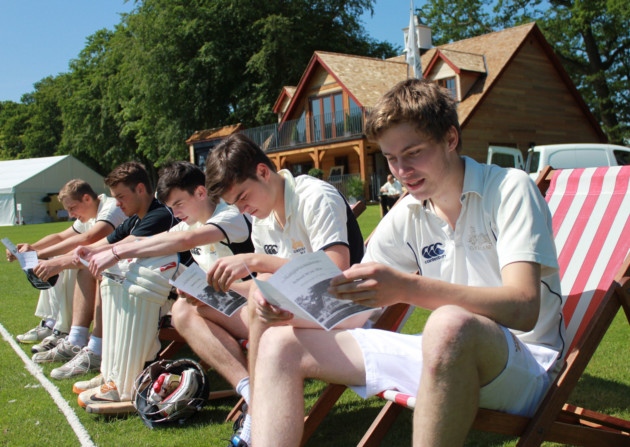 WNCC v Gresham's 18th of June
WNCC batted first scoring 245/9 in 45 overs.  The school made something like 158/9 in response in 45 overs, resulting in a draw.
On one of the hottest days of the year, the skippers' only resounding contribution was to win the toss.  Guests from Norwich CC Lewis Sexton and Will O'Donnell started off at a respectful pace, with O'Donnell going on to retire on 66 after a late flourish of 23 from his last over.  T Sheridan and Stromberg made up the balance of the WNCC innings.  The best strike of the day, was split between Will O'Donnell and James Blake, who's the first and only scoring shot went straight over long-on, sadly not repeated on his next ball where he found the deep mid-wicket sub field Ali Horsley, to whom not much passes, at any height.
James Blake and Jim Thompson opened up the bowling.  James Blake bowling at a blistering pace, too good for the school, was unlucky not to pick up a wicket with his left arm in-swingers.  As opposed to JT, whose pace was reminiscent of a spinner in a hurry and who line was a random as the eurolottery.  To his defence, his first spell produced the only wicket (caught behind); coupled with dropping a catch in second slip of his fellow opening bowler meant that JT tried to claim bragging rights to a great opening spell in the same way that Jeremy Corbyn thought he had won the election campaign. Dam right delusion:  1 wicket, 1 run off the bat, correct, but … also 12 extras – yes, you are even taking the credit for the byes!).  That said, Jim, you ave perfected the slower ball bouncer.
Pick of the bowlers was Nathan (the panda) Lomax – his deceptive pace caused no end of trouble, and twice he remarkably hit the same top part of the leg-stump with identical deliveries.  The first dismissal was a really uncharacteristic cross bat slash by Billy Buckingham, the second was elementary oversight.
Catch of the day: James Blake taking a skier at deep square leg.
Drop of the day: the skipper (nine wickets down) totally missing one at mid-on.
Ball of the day: The Panda x2.
Jim Thompson was punished with a second spell of spin, which received no mercy – but this was what the skipper requested.  Finally being rewarded with the figures he deserved – 1-40.
All in all an enjoyable, but hot afternoon, on one of the worst tracks I have ever played on at Gresham's (lifeless and under watered), but a fun game of cricket and a good bunch of players, plus a little bit of banter from JT.
Thank you to all for travelling from near and far.  I look forward to seeing all of you in the middle again soon.
I resign again from match-managing this fixture.  Over to you (again) Nathan.
James H.